Our global accounting network, your local contact in the world

ABC Audit Sp. z o.o. is a member of MGI Worldwide, an international network of advisory firms associating independent audit, tax and accounting companies. We offer our clients the knowledge of 5000 professionals in more than 240 locations around the world. Our membership in MGI Worldwide allows us to keep abreast of changes in the global economy, while providing a seamless international service to all our clients who are looking for support abroad.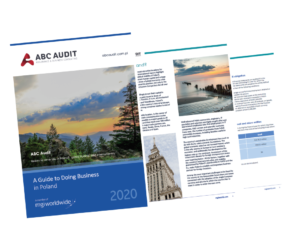 View a Guide to Doing Business in Poland for Foreign Companies
With MGI Worldwide, our company benefits from contact with people we know personally and trust.   We offer both comprehensive consulting services as well as quick contact with a specialist from any corner of the globe – all to ensure your company's international success. At MGI Worldwide we apply the highest standards of consulting services. Like other member companies, we are subject to periodic reviews of our quality assurance systems, data security systems and service procedures in accordance with international standards. 
More information about MGI Worldwide can be found at www.mgiworld.com.

Why is participation in MGI Worldwide important for our customers? 
Personal contacts
MGI Worldwide's partners and member companies take care of their clients personally. Our network's philosophy is to build close relationships that translate into loyalty, respect and the achievement of goals together. We offer our knowledge and experience so that your company can succeed. 
Entrepreneurship
Members of MGI Worldwide are medium-sized consulting companies, managed by their owners. In our daily work we face the same business challenges as our clients and we really know what entrepreneurship means. We understand your company and your aspirations. 
Global coverage
Our partners from MGI Worldwide are present on every continent and in almost every key economic centre in the world. We bring together over 5,000 specialists in nearly 90 countries. However complicated the requirements of our clients would be, someone at MGI will certainly know how to help. 
MGI Worldwide is a leading international network of separate and independent accounting, legal and consulting firms that are licensed to use "MGI" or "member of MGI Worldwide" in connection with the provision of professional services to their clients. MGI Worldwide is the brand name referring to a group of members of MGI-CPAAI, a company limited by guarantee and registered in the Isle of Man with registration number 013238V, who choose to associate as a network as defined in IFAC (IESBA) and EU rules. MGI Worldwide itself is a non-practising entity and does not provide professional services to clients. Services are provided by the member firms of MGI Worldwide. MGI Worldwide and its member firms are not agents of, and do not obligate, one another and are not liable for one another's acts or omissions.